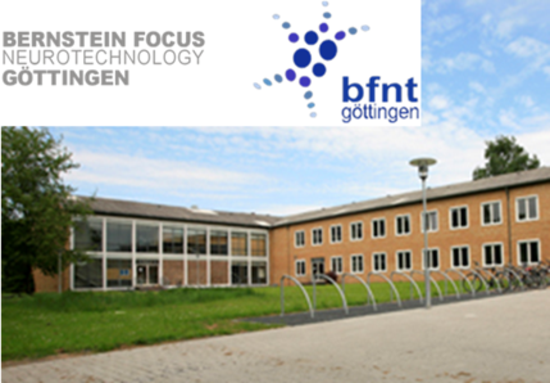 Institute of Neurorehabilitation Systems
Bernstein Focus Neurotechnology (BFNT) Goettingen
Bernstein Center for Computational Neuroscience (BCCN)
University Medical Center Goettingen
Georg-August University
Von-Siebold-Str. 6,
37075 Goettingen, Germany
The Institute for Neurorehabilitation Systems at the University Medical Center Goettingen has been founded by Prof. Dr. Dario Farina

, who is also the current Director of the Department, in November 2010, within the Bernstein Focus Neurotechnology (BFNT) Goettingen. The Department's infrastructure is provided by the Medical Faculty and BFNT. The research at the Department is also supported by the European Community (see Menu on "Research

").
We investigate basic neuromuscular mechanisms mediating movements and their changes underlying both acute adjustments (e.g. muscle fatigue) and chronic adaptations (e.g. training, stroke) (movement neurophysiology). Moreover, we develop methods to restore, replace and modulate lost or impaired motor functions (neurotechnologies). Our approach is interdisciplinary and is based on expertise in computer modeling (bioelectricity, biomechanics, neural networks), neural signal processing (machine learning), electrode and sensor design (high-density intramuscular and surface EMG electrodes), hardware design (multi-channel general-purpose amplifiers), neurophysiology of human movement (spinal circuitries, motor units and motor neurons, motor control modularity) and neurotechnologies (FES, BCI, robotics, active prostheses).
Recent representative publications:
M. Sartori, M. Reggiani, D. Farina, D.G. Lloyd. "EMG-driven forward-dynamic estimation of muscle force and joint moment about multiple degrees of freedom in the human lower extremity

", PLoS One, 2012;7(12)
Mrachacz-Kersting Natalie, Kristensen Signe Rom, Niazi Imran Khan, Farina Dario. Precise temporal association between cortical potentials evoked by motor imagination and afference induces cortical plasticity

. J Physiol-London, 590(Pt 7): 1669-82, 2012.
Vieira TM, Loram ID, Muceli S, Merletti R, Farina D (2012) Recruitment of motor units in the medial gastrocnemius muscle during human quiet standing: is recruitment intermittent? What triggers recruitment?

J Neurophysiol, 107(2): 666-76.
Muceli S, Farina D. Simultaneous and Proportional Estimation of Hand Kinematics From EMG During Mirrored Movements at Multiple Degrees-of-Freedom

. IEEE Trans Neural Syst Rehabil Eng. 2012 May;20(3):371-8.
Schomacher J, Dideriksen JL, Farina D, Falla D. RECRUITMENT OF MOTOR UNITS IN TWO FASCICLES OF THE SEMISPINALIS CERVICIS MUSCLE

. J Neurophysiol. 2012 Jun;107(11):3078-85
Farina D, Negro F. Accessing the neural drive to muscle and translation to neurorehabilitation technologies

. IEEE Rev Biomed Eng. PP(99). (2012)
Jiang N, Dosen S. , Mueller KR, and Farina D. "Myoelectric control of Artificial Limbs: is There the Need for a Change of Focus

?", IEEE Signal Processing Magazine, Vol. 29, No. 5, pp. 148-152, Sep. 2012